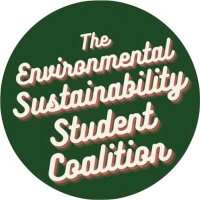 In collaboration with the ASUCD Campus Center for the Environment and the UC Davis Office of Sustainability.

The Environmental Sustainability Coalition (ESSC) was created to address a need for more communication and collaboration among environmental organizations on the UC Davis campus. It provides a central source of knowledge and participation in all sustainability projects happening on campus, so as to more effectively address environmental issues as a unified group of students.

Frequent meetings are held with all member organizations in order to have open discussions about ongoing sustainability projects and current news in environmental science. By providing a central source of marketing for environmental events, the Coalition also aims to increase the accessibility of environmental projects to the entire student body. The Coalition maintains continuity in environmental projects by implementing an administrative framework for continuing initiatives that can no longer be taken on by their parent organization. While most environmental organizations focus on tackling environmental issues from one specific angle–whether that be researching environmental problems, expanding sustainable infrastructure on campus, educating citizens, or engaging in political activism, the Coalition links these organizations into one, streamlined problem-solving process. The Coalition works to foster greater partnerships on large-scale, meaningful projects, while encouraging a culture of environmental responsibility across campus.

Is your organization interested in joining? Click here to fill out an interest form!